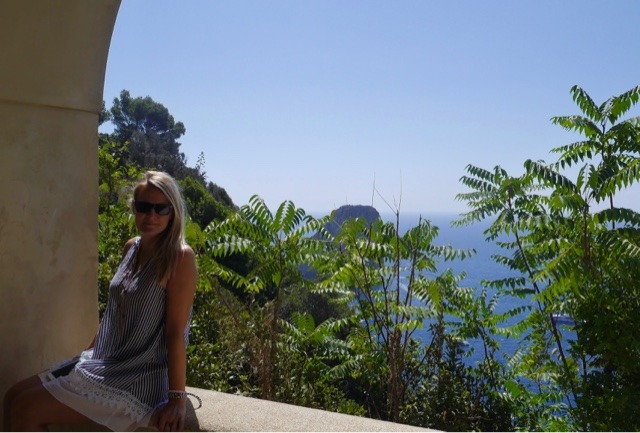 Yeah, this just happened. Anchored Victoria right in front of the Faraglioni in Capri. Capri is poetry all over the places: it's magic, it's inspiring.
It's always been high on my bucket list to drop our anchor right here…
We spent a bumpy night at anchor…
What to see:
Capri is an island with a lot of caves, coves and steep cliffs that can be admired in all their beauty, especially in the sunlight. If you have just a few hours, in fact, you cannot miss the chance of taking the classic photo in front of the Faraglioni.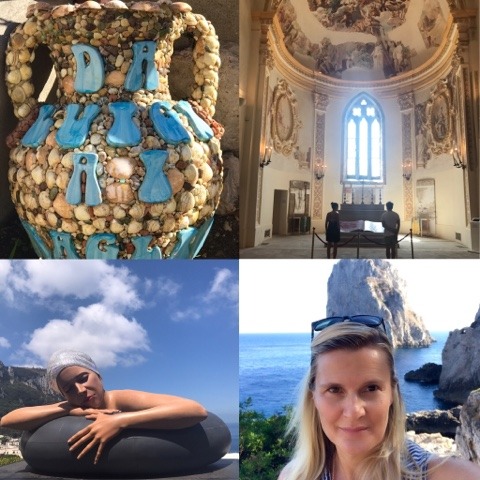 Then move towards the Giardini di Augusto: a very well-kept true botanic garden dating back to the early 1900's from where to enjoy an incomparable panoramic view of Capri.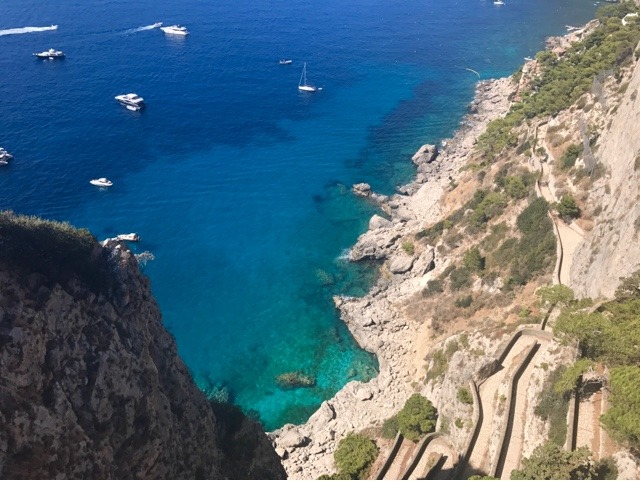 Another un missable place is Villa San Michele, a house that belonged to a Swedish doctor who made a place filled with Roman, Etruscan and Egyptian ruins and remains livable . Till this day, the villa preserves this remains which are enriched by a garden of Mediterrean flora. Tradition has it that if you place your left hand in the Sphinx that you'll find inside the garden and make a wish looking at the sea, your wish will come true. Finally, you wouldn't want to miss what is considered to be the island's biggest attraction, the Grotta Azzurra! You can reach it with a small rowboat and just going through the entrance is an experience: to get in you will have to completely lay down because the opening is just 1m high. Once in, a sea of an almost unnatural color.
Beach life. Besides the into the blue of the Grotta Azzurra, we suggest some of the most beautiful and well equipped beaches in the island. A little street that starts at the Hotel Punta Tragara leads to La Fontelina a beach complex right next to the Faraglioni, with a restaurant to enjoy local dishes with an incomparable view. Then the famous "La Canzone del Mare" in Marina Piccola, the favorite beach of international celebrities that features an amazing infinity pool overlooking the sea.
In Capri you can eat really well and not necessarily spending a fortune. Try Aldo, a small shop by the marina: here you'll have the panini alla caprese, the best of the area at a super good price. In the afternoon, while at the beach, stop by Buonocore (via Roma 36) for a very delicious ice cream. Our favorite flavors? O' Sarracino and Caprilù…
Cocktails and nightlife. Not just sea and sun, Capri is beautiful and alive even at night. For a true Mediterranean cocktail head to Tiberio (piazza Umberto I): Spritz or iced wine??
At night, letting loose at Anema e Core, the most famous tavern of the island, is a must, here it's not unlikely to run into world famous celebrities like Beyoncé, Mariah Carey and Naomi Campbell. After the restaurant service, the place transforms into a club: everyone dances on the tables, even to traditional Neapolitan music!