WE 2, Biggi and Torsten, are a german couple from Munich whose love of adventure, exploration and for each other took us on a long journey on a Nautor Swan 48 called SY Ambra.
Every beginning holds it's own magic!
And it all started in a small northern german town Laboe when Torsten bought the 43-foot-Hallberg-Rassy Yacht called SY Victoria (End of 2013). After spending two years in the Baltic Sea we decided that we want sail across the oceans of the world. We sailed through the North Sea, down the Atlantic coast to the med. We sold Victoria in autum 2019 in Turkey.
Now we are sailing our Swan 48 AMBRA and continue our journey across the Atlantic.
Biggi is a Marketing Manager and had no prior sailing experience but an innate lust and a need to continue exploring the world. Born in Germany, moved to Italy for three years. She'd been skiing since she was a girl. She is the voice of Ambra and does all the blogging, tweeting, Facebooking, and social media marketing so that others can find us!
Activities/Interests : Reading, writing, running, sailing, skiing, travel, biking, cooking, styling, taking pictures everywhere and learning by doing. Biggi runs all our social media channels on our sailing adventures and reaches quite an audience with inspiration and tips for living out the dream.
The best way to make your dreams come true is to put the sails in position to catch the wind!
Torsten is a typical engineer and he loves projects. Born in Germany, moved to Australia for seven years, later to London for three years. He met Biggi in Austria 2009. He'd been sailing since he was a boy. With his sharp engineering mind, he can fix anything on a boat an he is the "captain" of our crew.
Activities/Interests: Running, sailing, skiiing, travel, biking, riding his motorbike, marathon, laughing, being the first on the dance floor, finding solutions, being a dad for three wonderful children.
Why We Sail
1. Discover a destination from a new perspective
Most of us have witnessed places from planes, but from a boat every view looks like a picture with blue waters and clear skies. The perfect backdrop!
2. Find secret beaches
Sail through waters and find your very own secret beach with white sand and crystal clear waters. Privacy in paradise! Things could be worse right?
3. Water activities and toys
If you're an adventure seeker, then traveling by boat is ideal! Most boats have excellent toys on board, including snorkeling gear, kiteboards, windsurfs, paddle boards and much more! Get that adrenaline fix!
4. Learn new skills
Whether you're an expert Skipper or a first-time sailor there is always plenty to learn! Ask your Captain to teach you a few things from steering to setting the sails. It's a lot of fun
5. Source your own food
Yes! Grab a couple of lines and catch some fish only a foot away from the deck! Use your sourced seafood to cook up delicious pasta! It doesn't get much fresher than that!
6. Visit beautiful cities and towns
Coastlines and islands are home to some of the most beautiful cities and towns. Make stops at the marinas, discover different cultures and try tasty local dishes!
7. Amazing sunrises and sunsets
One thing about being at sea that you really can't experience anywhere else is the rising and setting of the sun. View an incredible palette of colors paint the sky as the hot sun melts into the water.
8. Get in touch with nature
Anchor the boat jump off to discover the underwater wildlife as you snorkel through hidden coves. As well as at sea, you can also visit the lands and witness beautiful flora. You never know, you might stumble upon a natural mud bath or fresh water springs!
9. Meet new people
The beauty of traveling by boat is that you are not the only one! Hop from port to port and get to know other sailors! You'll be surprised of the amount of interesting stories they all have to tell!
10. Embrace a new experience
Every time you travel by boat, you will always live an entirely new and exciting experience! Live some unforgettable memories today by traveling on a boat on your next trip!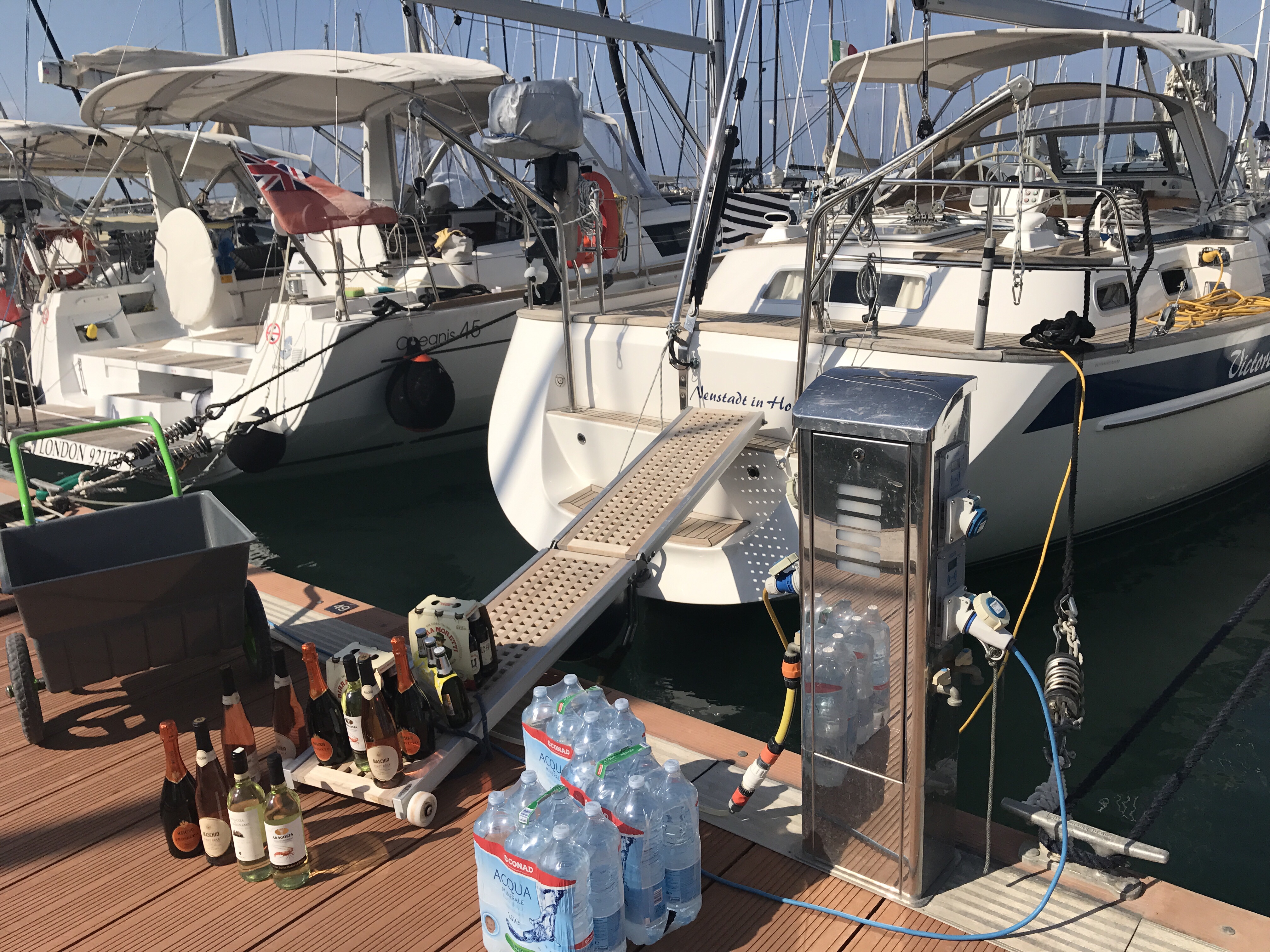 What Should I Pack?
Minimising what you bring is essential when sailing. You know what they say: "Pack half the amount of clothes and double the amount of money." While the latter half of this may not be possible, the former most certainly is. And you will seriously thank yourself for it. Not sure what to pack? Check out: The Ultimate Packing Checklist.
Keep in mind that you'll probably be wearing the same outfit every day, which will essentially consist of shorts, a t-shirt, a swimsuit and flip-flops. But be sure to also bring the following items:
•Enclosed shoes – You'll need something non-slip for walking around the boat and also a decent pair for exploring local towns, National Parks and enjoying outdoor activities.
•A hat – One that actually fits.
•A jumper – While days on the water will be beautifully warm, it can get quite cold during the evenings, so bring something to stay cosy in.
•One evening-wear outfit – It's likely that you'll be heading into at least one coastal town during your sailing trip, so bring something nice to get dressed up in.
•A towel – One for the beach and one for the showers!
•Toiletries.
•Your camera – But keep in mind that salt water will get everywhere. So make sure you bring a decent case or, even better, an underwater one!
•Chargers and adapters.
•Prescription medicine – Ensure your medicine is in its clearly marked original container to avoid any confusion when passing through customs, and always have enough on hand for a few extra days in case of travel delays or lost luggage.
•A small flashlight – You'll thank us when it's 12am and you're crawling through a dark, crowded cabin trying to find your pyjamas.
•Some first aid items – Although most sailing vessels have a fully equipped first aid kit on board, make sure to bring a small pouch full of all the necessities, such as band aids, antibacterial cream, aspirin, seasickness remedies and a small can of bug spray
•Sunscreen and don't forget to bring sunglasses and a tight-fitting hat!!!
No matter how many countries you've been to, there's always something new to discover.